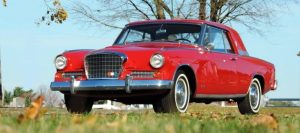 Mark Saturday, March 10, 2018 on your calendar NOW.  This day we draw winners for the Keystone Region's raffle car and $2,000 (tickets are sold out).  Vince Habel and other club members have worked hard for Keystone Region to sell the raffle tickets for the stunning, red '63 Hawk. This is also the first year without the Studebaker York Swap Meet. So what do we do??  Let's celebrate, have a great experience, and a FREE one day flea market too. That's right, a FREE Studebaker only flea market.
The home port for this one day celebration is at the AACA Museum in Hershey.  The day begins at 10:00 AM with the opening of the "Studebaker Trunk-n-Junk" flea market. Anyone interested in selling Studebaker items will be provided FREE parking area adjacent to the Museum to hawk (pardon the PUN) their wares outside/inside their trunk or trailer. Setting up before 10:00 AM is encouraged. There are no charges, but an RSVP is requested to assure parking arrangements.
Also at 10:00 AM, check-in begins for all who have registered to participate in the day's PAID activities. Enjoy the Museum's "Behind the Scenes Tour", visit the Museum's Studebakers, tour the museum exhibits and have a catered luncheon at Noon.  The cost for this is $20 per person, 12 years old and up to100 years old. Over 100…free.
The Museum exhibit (Getting the Job Done – Vehicles that Earned Their Keep) is open all day for PAID registrants to visit at their discretion.  There are interactive exhibits like the model trains, watch the headlight turn in the Tucker driving experience and old vehicles to sit in. There are fun and educational experiences for young and old.
The behind the scenes tour will begin about 10:30 AM and end approximately 11:30 AM.  Luncheon buffet will be served at Noon. Includes choices of Dagwood sandwiches (Turkey, Ham & Provolone) on Greek Sweet Bread or Roast Beef-Panini, Potato Salad, salad, assorted drinks; soda, water, coffee, etc., and dessert samplers.
Registrants can tour the Museum after lunch and visit the "Studebaker Trunk-n-Junk" flea market until the Raffle drawing at 2 PM.  Raffle drawings are open to the public at no charge.
Event info & Vendors: (Please RSVP):  Tom Ehrhart   717-832-1116   OR   tt@tigertoms.net
Event Registrants: Register and provide check payable to "Keystone Region Chapter, Inc." to Ronda White, 2706 Hoffer St, Harrisburg, PA  17103.
Registration deadline is February 27, 2018.